Yeah, yeah — It's a cold, sunny day here on Long Island, yada yada yada… I'm fired up! No time for small talk!! With my schedule lightening up with the holidays approaching, I did NOT have to enter the field today. I slept in, was feeling lazy upon waking, and even contemplated staying in bed all day. That is, until I saw this: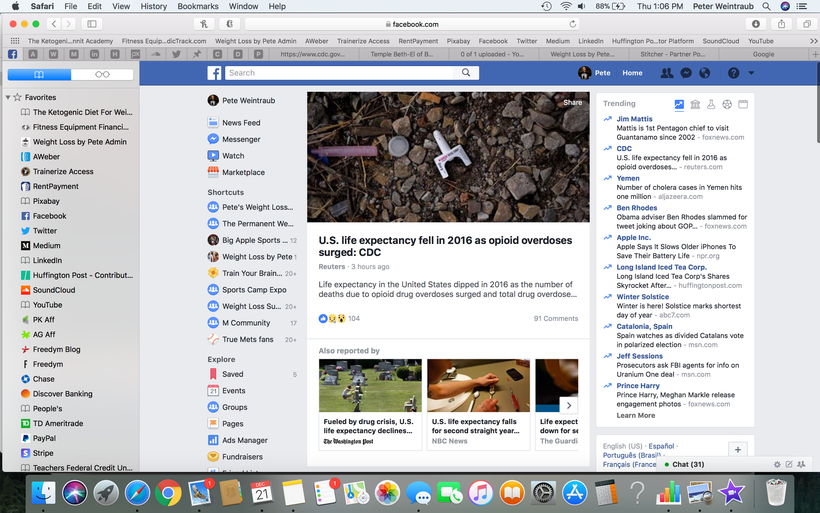 Of course, being the curious person that I am, I investigated. The media was going off on how the opioid epidemic (and to a lesser degree, how the increased suicide rate) was to blame for how the average American lifespan DECREASED for the second year in a row for the first time since the early 1960s. And looking at things arbitrarily, there appeared to be some credence to the blame being pointed at the opioid epidemic's contribution to this issue: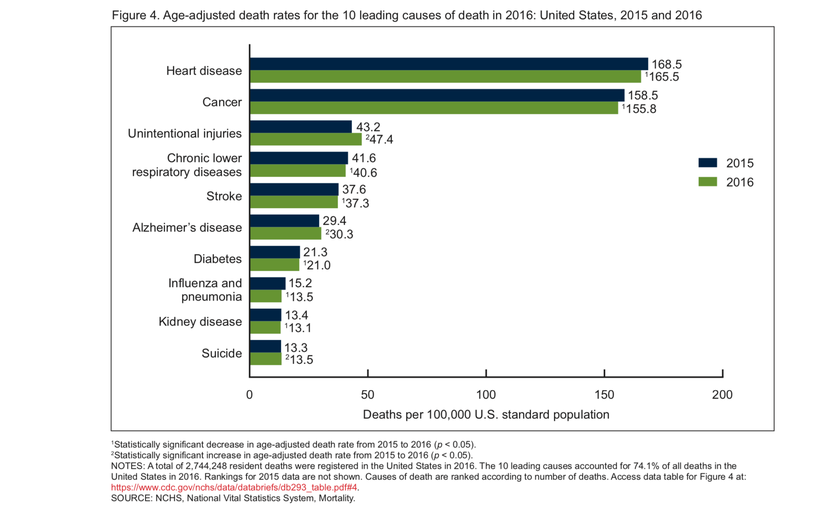 What you're seeing in the above chart are the Top 10 leading causes of death in the United States in 2016. This chart also shows the number of deaths via these same ailments in 2015. 'Unintentional Injuries,' which is where opioid overdoses have been placed, have overtaken 'Chronic Lower Respiratory Diseases' for #3 on this lethal list! We've heard about this opioid epidemic time and time again on the news, and so that has to be why it increased so significantly, right?
Well, not so fast! If you look at the CDC's report in its entirety (https://www.cdc.gov/nchs/data/databriefs/db293.pdf), there's no section that states that the increase in opioid overdoses was the sole cause for 'Unintentional Injuries' to skyrocket! In fact, there are no statistics breaking down what the Top 10 Unintentional Injury Causes of Death even were. A contractor can fall off a ladder while working on a home and break his neck, thus ending his life. A low self-esteem husband may want to prove to his wife that he's a 'man's man,' and tries to fix an electrical socket without the proper tools or the proper training. The result is death by electrocution, unintended!
My point with these examples is that the finger being pointed by the media is all speculation, and with a 'War on Drugs' crooner in Jeff Sessions as ourAttorney General, one has to wonder where the validity behind these reports is coming from…
That being said, I'm not negating how destructive opioid addiction can be. While I personally haven't had or haven't seen its effects on anyone I've known, I know it's very real. I also know that suicide rates have been increasing gradually over the past decade, and that I've lost friends and some of my favorite musicians to both unintended ODs and suicide over that span. Still, let's look at the Top 10 Causes of Death in the United States in 2016 a little more closely, shall we?
Long story short: Heart Disease is still #1, Cancer's still #2 with an INCREASE in the number of people it killed last year, Chronic Respiratory Disease is #4, Stroke #5, Alzheimer's #6 (I lost a few elder relatives to this), Diabetes #7 (an increasingly common gateway disease!), Influenza and Pneumonia #8, and Kidney Disease #9.
Eight of the Top 10 leading causes of death in this country are NOT linked (at least not directly) to drug addiction or to one's personal cessation to his/her life. These overlooked eight are at the top of this list year-in and year-out, and yet nobody gives a shit about it! I can understand that the opioid epidemic and the suicide rate is on the rise, and that they're both something new and shiny for the media to talk about, but when the vast majority of our society's deaths have come from other, PREVENTABLE means over the past 60 years, then even something that's apparently as simple to report as this report shows that we can't blindly trust what our news sources are telling us.
How do we take control? By doing just that! We stop relying solely on our doctors to give us yet another pill for what ails us. I'm going to be totally transparent with you: I struggled with severe anxiety and depression halfway through college. I went to see a psychiatrist, who prescribed me Xanax. I took it a few times, didn't like how it made me feel, and I stopped. I then went in the direction of meeting with a psychologist (they can't prescribe medication), and found talking to a third party about my issues was much more instrumental in my overcoming my issues than that little white pill ever did!
The same holds true with so many other drugs out there. It's sad, but I have many clients and many relatives who take a cocktail of medication — Not just on a daily basis, but multiple times per day! I've watched these once great people deteriorate into confused, depressed and just non-functional folks. Despite my attempts to point them in the right direction nutritionally or with some exercise that would assist, they never seem to have a desire to put in the work to get better. Instead, they're willing to just sit back, blindly trust their doctors, take their pills, and hope for the best.
This isn't a way to live, and this isn't a way to take control! I understand you may have a million other priorities that aren't centered around your health. You may have kids, a job, a spouse, and a bunch of other responsibilities that aren't centered on you. But you see your life through your eyes! And for all the people and for all the things that you currently serve to the best of your ability, don't you think that it's time you put yourself first, and made sure that the same dreadful fates that most Americans are dying from don't come to get you, too?
Food for thought. Talk tomorrow…
Sincerely,
Pete Weintraub
pete@weightlossbypete.com
P.S. If you're looking for more messages like this about Permanent Weight Loss, then you're definitely going to want to join the Permanent Weight Loss Community I recently opened on Facebook 😉
This group is for people who are looking to lose 50 or more lbs, is for people who are looking to prevent debilitating, impending disease(s) due to unhealthy lifestyle habits, and is for people who are looking to avoid undergoing weight loss surgery. It is for folks who are tired of wasting money on fad diets, on short-term fitness programs, and on BS supplements that do nothing more than keep you in a constant cycle of yo-yoing with both your weight and your health.
Members of this group will learn how to lose weight in a healthy, sustainable and PERMANENT way! As a result, you'll never have to count calories again, you'll never have to pay for a gym membership you'll never use, and you'll never have to go under the knife for a procedure that can't possibly guarantee long-term health and weight loss results.
If this sounds good to you, then join us! We're a community of likeminded individuals who want the same thing that you do: Permanent Weight Loss!