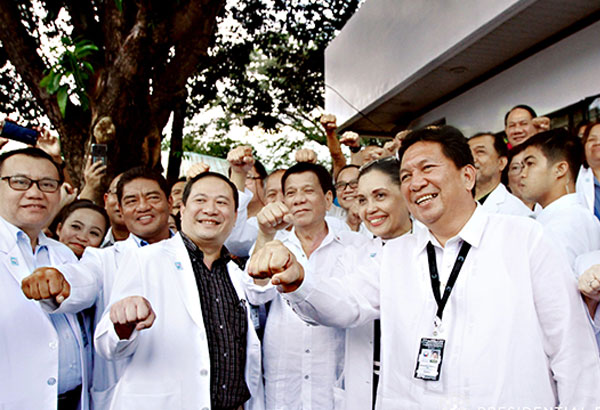 MANILA, Philippines — After firing officials over unnecessary travels abroad, President Duterte vowed to impose a "starvation diet" on foreign trips in the executive branch next year.
Duterte said some officials, most of them in Metro Manila, are "dead woods" because they travel frequently and cannot sign papers. He said these officials are using people's money "for flimsy reasons."
"Kaya umiinit talaga ang ulo ko (That's why I blow my top). Come Jan. 1, I told (Executive Secretary Salvador) Medialdea – Well, I do not want to interfere with Congress and the Supreme Court… but here (in the executive branch), no travel now. I'll cut it. Whatever. Except the diplomats," the President said during the launching of an agriculture program yesterday in Davao City.
Because he does not want to embarrass people in public, Duterte said he would order government officers to refrain from taking foreign trips and to go on a "starvation diet" instead. He noted that trips abroad require the government to spend for allowances, hotel accommodation and airfare.
The President also vowed to fire officials who leave the country every month.
"I'll look for plenty of victims. I will look at everything. Those who travel every month, you go. I do not need you in the executive department. I will be strict, especially in the matters of money," Duterte stressed.
Headlines ( Article MRec ), pagematch: 1, sectionmatch: 1
Three days ago, Duterte ordered Development Academy of the Philippines (DAP) president Elba Cruz, who was accused of traveling frequently and mismanagement, to leave her post.
The DAP Personnel Association (DAPPER) had urged Duterte to fire Cruz for alleged unnecessary trips and for threatening to terminate anyone who questions her policies. She also reportedly appointed non-plantilla officers to official posts.
Earlier this month, Duterte fired Presidential Commission on Urban Poor (PCUP) chair Terry Ridon and his four commissioners over alleged junkets.
"Let us be very clear on this: we are all friends, I do not have a problem with that but when it comes to government interest, forget about it," declared the President.
He also vowed to fire three superintendents and 49 policemen but did not say why. He previously threatened to dismiss about 90 "gangster" policemen for corruption.
Duterte said he has begged off from the invitation of Prime Minister Narendra Modi to visit India next month, although the foreign affairs department is convincing him to accept it.
"Problem is we do not have representation. So, the Department of Foreign Affairs is urging me to go there because India is also a big market. I am not sure but I have to attend… whatever it is, it's heads of state," the Chief Executive added.
Saying he is "too old" for it, Duterte reiterated that he does not enjoy foreign trips.
P6 million for PCSO party
Malacañang said the President would also look into allegations that the Philippine Charity Sweepstakes Office (PCSO), an agency that provides assistance to the poor, spent millions for a Christmas party.
PCSO board member and former jueteng whistle-blower Sandra Cam claimed that her agency spent P10 million for a lavish Christmas party at a five-star hotel. She did not attend the party, held Tuesday at the Isla Ballroom of Edsa Shangri-La, as a sign of protest.
But PCSO general manager Alexander Balutan denied the party was extravagant, clarifying that they only spent P6 million for the event. He reasoned that the 1,580 PCSO employees deserved that party because they worked hard to increase the earnings of the agency.
For Sen. Sherwin Gatchalian, who chairs the Senate economic affairs committee, the lavish staging needs admonishing.
He lamented that PCSO "remains hard-pressed in extending assistance to those who seek its help."
"The PCSO should be reminded to practice austerity and prudence for they are always accountable for the budget being entrusted to them by the people," Gatchalian stressed.
Government employees, he added, should set a good example in manifesting simplicity and prudence in all their actions.
"With this, and based on what was reported, I believe staging this party in a luxurious five-star hotel and extravagantly spending P6 million is an ostentatious display of insensitivity on the part of PCSO," he said.
He said the PCSO officials displayed "lack of conscience" in holding the party.
Presidential spokesman Harry Roque said he would talk to PCSO officials to verify the real cost of the merrymaking.
"Remember, PCSO is nationwide. So we'll have to verify because the information just came out yesterday, if I'm not mistaken. I will formally communicate with both the general manager and director Sandra Cam. I think you know that the President does not tolerate extravagance. So, we do not know yet. I'm sure the President will look into the matter," Roque said in a press briefing.
Asked whether he thinks a Christmas party that costs P6 million is extravagant, Roque replied: "We don't know… we do not know how big that party was, considering that PCSO is a nationwide organization."
Pressed on whether the President has a directive about Cam's claim, Roque said: "Let's just say that with or without an order, the President takes heed."
"He's very sensitive to what is reported by his own people in the different branches of government," he added.
Duterte has repeatedly reminded government personnel to use state funds prudently, saying he would not hesitate to fire anyone involved in corruption and other wrongdoing.
Gatchalian said he would leave it up to Malacañang to look into the matter. – Paolo Romero