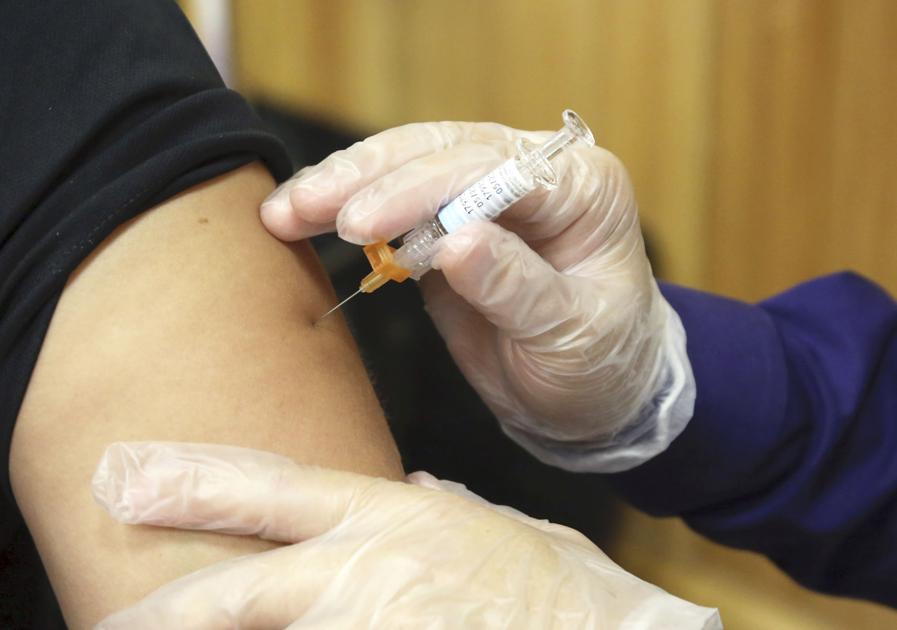 BLUEFIELD — Flu season is now underway, so area health care providers are urging people to step up for flu shots, wash their hands, and stay home when sick so friends and colleagues won't have to share the sneezing, aches and fever that come with influenza.
In Mercer and McDowell County, public health care agencies were seeing normal numbers of people displaying flu-like symptoms come to their clinics. At Tug River Health Association's clinic in Gary, the nurses were not seeing more flu cases than usual, Marsha Matney, public health nurse, said.
"We've had one so far," Nuse Rebecca Kelly, LPN, stated.
But this hasn't been the situation in areas near southern West Virginia. Clinic nurses who have been on vacation during the holidays have told their colleagues back in McDowell County about seeing much higher numbers of flu cases, Kelly said. For example, one Bristol, Va. clinic had a sign on its door telling the public that the facility has seen approximately 190 cases.
"We ourselves in Gary have seen one positive," she said.
The Mercer County Health Department had seen only a few flu cases, too. In Virginia, the levels of flu cases across the state were listed as "sporadic." Health care professionals were still urging the public to take precautions against the disease. Paige Lucas, the district epidemilogist serving Buchanan,Russell, Dickenson and Tazewell Counties, said she was glad to hear when people who have the flu decide to stay home instead of going to work.
"That's one of our big messages," Lucas said. "Stay home when you're sick. They go to work and try to muscle through, and expose coworkers to it."
Kelly's district has seen numbers of flu cases which have been corresponding with those being recorded statewide. Nationally, the Centers for Disease Control and Prevention (CDC)
Influenza activity in the United States was low during October 2017, but has been increasing since the beginning of November, according to the CDC's web page Update: Influenza Activity. Influenza A viruses have been most commonly identified, with influenza A(H3N2) viruses predominating. Several influenza activity indicators were higher than is typically seen for this time of year. CDC officials urged people to continue seeking vaccinations while the flu is still circulating and while vaccine supplies are available.
Since flu season is underway, the district has been encouraging the behaviors that help curb the flu cases being seen.
"Our message is that if you haven't got your flu vaccine yet, get your flu vaccine," she said. "And wash your hands, and stay home when you're sick."
Sometimes people who get their vaccinations complain that they still caught the flu, but this is normal. There are instances when people will get a case of flu that's milder than it would have been otherwise.
"They expect the flu vaccine to make them not get sick, and that's true for some flu seasons," Kelly said. "In others, you get the symptoms, but not as bad as they would have been if they hadn't gotten vaccinated."
CDC officials urge people to see their doctors promptly if they are at high risk of serious flu complications. People at high risk of flu complications include young children, adults 65 years of age and older, pregnant women, and people with certain medical conditions such as asthma, diabetes and heart disease.
When used for treatment, antiviral drugs can lessen symptoms and shorten the time a person is sick by one or two days, CDC officials. They also can prevent serious flu complications, like pneumonia. For people at high risk of serious flu complications, treatment with antiviral drugs can mean the difference between milder or more serious illness possibly resulting in a hospital stay. Antiviral drugs are prescription medicines (pills, liquid, an inhaled powder, or an intravenous solution) that fight against the flu in the body.
These drugs are not sold over-the-counter, CDC officials said. They are available only with a prescription from a doctor or health care provider. Antiviral drugs are different from antibiotics, which fight against bacterial infections.
Private health care providers are seeing more flu cases. Rates of influenza-like illness in centers across MedExpress' 18 operating states have increased dramatically over the past two weeks and MedExpress centers in Virginia are currently seeing the fifth-highest rates of flu-like cases. The MedExpress' 2017-2018 rates for influenza-like cases for Virginia centers are higher than they have been during the same time period of the past two flu seasons: 22 percent in 2017-2018 compared to 16-21 percent in previous years, according to Public Relations Coordinator Ellen Dietrick.
West Virginia MedExpress centers are also seeing higher rates of influenza-like illnesses than during the same time period of the last four flu seasons, almost 28 percent in 2017-2018 compared to 16-25 percent in previous years). MedExpress centers in West Virginia are currently seeing the second-highest rates of flu-like illnesses across MedExpress' 18 operating states."
"We certainly encourage anyone who hasn't yet received a flu shot to come in and get one. It's never too late, but it can take about two weeks to build immunity, so the sooner you get it, the better," Dietrick said.
Contact Greg Jordan at gjordan@bdtonline.com