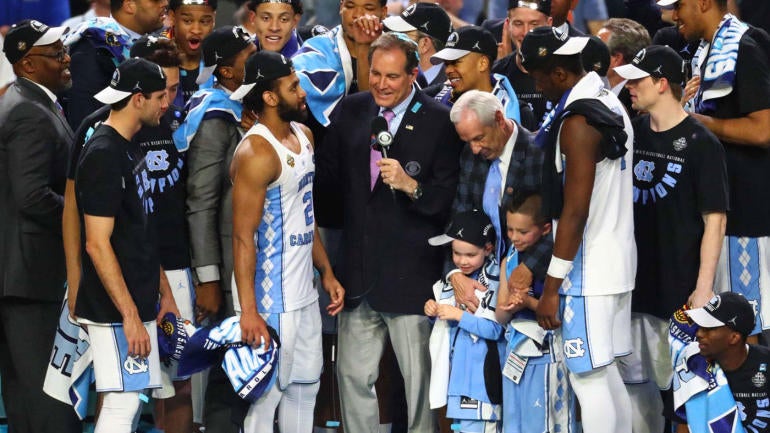 The NCAA Tournament is officially underway on Tuesday and Wednesday with the First Four, followed by the first round on Thursday and Friday. Below you'll find the locations, tip times, TV schedule and announcing crews on CBS, TBS, TNT and truTV. The games will also be able to seen on NCAA March Madness Live beginning Tuesday night on truTV.
NOTE: The national semifinals from San Antonio will be televised Saturday, March 31, on TBS with team-specific "TeamCast" broadcast on TNT and truTV. The national championship will air Monday, April 2, on TBS.
Jim Nantz, Grant Hill, Bill Raftery and Tracy Wolfson will be on the call for the Final Four and national championship games on TBS. Veteran play-by-play voice Ian Eagle will be on the mic for the regional semifinals and finals for the first time. Spero Dedes will call Tuesday's games with analysts Steve Smith and Len Elmore, alongside reporter Ros Gold-Onwude. Ian Eagle will handle play-by-play on Wednesday with analyst Jim Spanarkel and reporter Allie LaForce.
[Check out SportsLine's Upset Tournament Bracket here. Their computer simulation correctly predicted nine out of 12 double-digit seed upsets in the first round the past two years.]
Below you'll find the tip times and announcing assignments for the first four days. For cities/locations for all the games, head on over to the bracket page and get to picking and printing.
All times p.m. and Eastern.
FIRST FOUR
Tuesday
6:40, truTV: No. 16 LIU Brooklyn vs. No. 16 Radford (Spero Dedes, Steve Smith, Len Elmore, Ros Gold-Onwude)
Approx. 9:10, truTV: No. 11 St. Bonaventure vs. No. 11 UCLA (Dedes/Smith/Elmore/Gold-Onwude)
Wednesday
6:40, truTV: No. 16 North Carolina Central vs. No. 16 Texas Southern (Ian Eagle, Jim Spanarkel, Allie LaForce)
Approx. 9:10, truTV: No. 11 Arizona State vs. No. 11 Syracuse (Eagle/Spanarkel/LaForce)
First Round
Thursday Afternoon Window
12:15, CBS: No. 7 Rhode Island vs. No. 10 Oklahoma (Kevin Harlan, Reggie Miller, Dan Bonner, Dana Jacobson)
12:40, truTV: No. 3 Tennessee vs. No. 14 Wright State (Dedes/Smith/Elmore/Gold-Onwude)
1:30, TNT: No. 4 Gonzaga vs. No. 13 UNC Greensboro (Brian Anderson/Chris Webber/Lisa Byington)
2:00, TBS: No. 1 Kansas vs. No. 16 Penn (Brad Nessler, Steve Lavin, Evan Washburn)
Approx. 2:45, CBS: No. 2 Duke vs. No. 15 Iona (Harlan/Miller/Bonner/Jacobson)
Approx. 3:10, truTV: No. 6 Miami vs. No. 11 Loyola (IL) (Dedes/Smith/Elmore/Gold-Onwude)
Approx. 4:00, TNT: No. 5 Ohio State vs. No. 12 South Dakota State (Anderson/Webber/Byington)
Approx. 4:20, TBS: No. 8 Seton Hall vs. No. 9 NC State (Nessler/Lavin/Washburn)
Thursday Evening Window
6:50, TNT, No. 1 Villanova vs. LIU Brooklyn or Radford (Harlan/Miller/Bonner/Jacobson)
7:10, CBS: No. 5 Kentucky vs. No. 12 Davidson (Anderson/Webber/Byington)
7:20, TBS: No. 6 Houston vs. No. 11 San Diego State (Nessler/Lavin/Washburn)
7:27, truTV: No. 3 Texas Tech vs. No. 14 Stephen F. Austin (Dedes/Smith/Elmore/Gold-Onwude)
Approx. 9:20, TNT: No. 8 Virginia Tech vs. No. 9 Alabama (Harlan/Miller/Bonner/Jacobson)
Approx. 9:40, CBS: No. 4 Arizona vs. No. 13 Buffalo (Anderson/Webber/Byington)
Approx. 9:50, TBS: No. 3 Michigan vs. No. 14 Montana (Nessler/Lavin/Washburn)
Approx. 9:57, truTV: No. 6 Florida vs. UCLA or St. Bonaventure (Dedes/Smith/Elmore/Gold-Onwude)
Friday Afternoon Window
12:15, CBS: No. 7 Texas A&M vs. No. 10 Providence (Jim Nantz, Bill Raftery, Grant Hill, Tracy Wolfson)
12:40, truTV: No. 2 Purdue vs. No. 15 Cal State Fullerton (Eagle/Spanarkel/LaForce)
1:30, TNT: No. 4 Wichita State vs. No. 13 Marshall (Carter Blackburn, Debbie Antonelli, John Schriffen)
2:00, TBS: No. Cincinnati vs. No. 15 Georgia State (Andrew Catalon, Steve Lappas, Jamie Erdahl)
Approx. 2:45, CBS: No. 2 North Carolina vs. No. 15 Lipscomb (Nantz/Raftery/Hill/Wolfson)
Approx. 3:10, truTV: No. 7 Arkansas vs. No. 10 Butler (Eagle/Spanarkel/LaForce)
Approx. 4:00, TNT: No. 5 West Virginia vs. No. 12 Murray State (Blackburn/Antonelli/Schrriffen)
Approx. 4:30, TBS: No. 7 Nevada vs. No. 10 Texas (Catalon/Lappas/Erdahl)
Friday Evening Window
6:50, TNT, No. 8 Creighton vs. No. 9 Kansas State (Nantz/Raftery/Hill/Wolfson)
7:10, CBS: No. 3 Michigan State vs. No. 14 Bucknell (Eagle/Spanarkel/LaForce)
7:20, TBS: No. 1 Xavier vs. North Carolina Central or Texas Southern (Catalon/Lappas/Erdahl)
7:27, truTV: No. 4 Auburn vs. No. 13 Charleston (Blackburn/Antonelli/Schrriffen)
Approx. 9:20, TNT: No. 1 Virginia vs. No. 16 UMBC (Nantz/Raftery/Hill/Wolfson)
Approx. 9:40, CBS: No. 6 TCU vs. Arizona State or Syracuse (Eagle/Spanarkel/LaForce)
Approx. 9:50, TBS: No. 8 Missouri vs. No. 9 Florida State (Catalon/Lappas/Erdahl)
Approx. 9:57, truTV: No. 5 Clemson vs. No. 12 New Mexico State (Blackburn/Antonelli/Schrriffen)